Dave Rogers
| | |
| --- | --- |
| Hey! Here's a 'Steely-Eyed Pilot'. 'Top Gun' comes to mind! Thing is this Aussie was twenty plus years ahead of Tom Cruise and the parachute proves he was for real!!! If he'd have bailed out at 55,000 feet in shirt sleeves it would have been a tad chilly, well I think we all know how tough these Aussies are don't we? The pix to the right shows a young Dave Rogers. Don't know what his rank was at this time, most probably FLTLT whatever that means? He's the other half of the 79 Sqn double act that includes Bob Richardson. Their friendship began back then and continues to this day, just as we Vets have the same bond with our mates, after all this time! | |
Here's Dave take on how things were. "Bob Richardson and I served at Ubon over the same period and like Bob, I knew Crown was being built up at Leong Nok Tha. We used to fly over the camp, (which we always referred to as Mukdahan) at odd times on our routine sorties out of Ubon, but apart from the odd visit to the Mess by some of the officers up there, (he's talking about Brit Officers visiting the Aussie Mess, luxurious by Crown standards) I don't think 79 Sqn had much to do with the project. Both Bob and I stayed the distance in the RAAF and did about 37 years each, both retiring in 1998. We both ended up as AVMs, he was Chief of Personnel and I was the Deputy Chief. Must have been all the mischief we got up to as bograts (2nd Leftenants in Sapper speak)!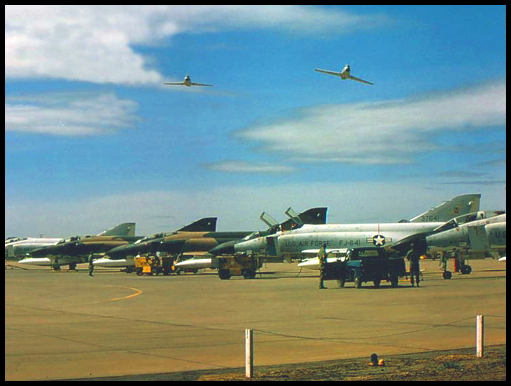 The pix above shows our pair of Aces flying over the USAF Phantoms lines at Ubon. The three pix below show Dave during his Phantom flying days and a shot of an RAAF F1-11, another aircraft he flew.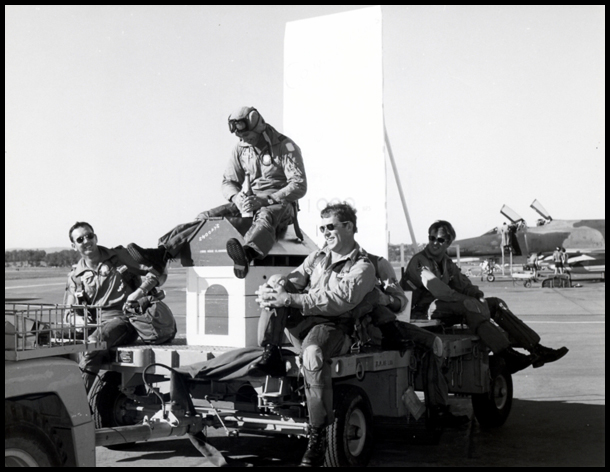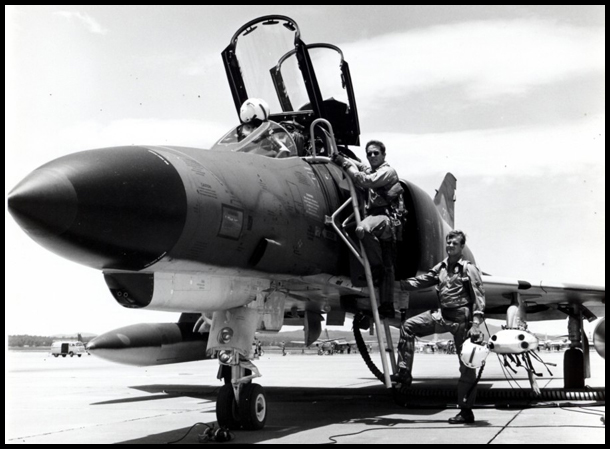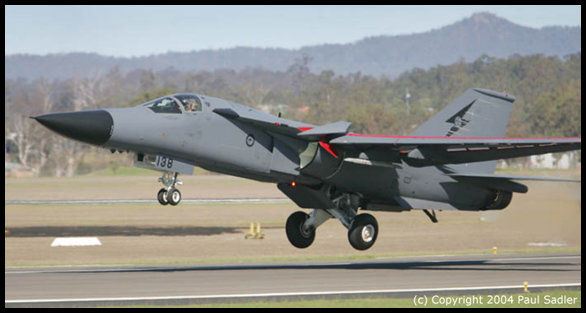 The pix above shows an RAAF F111. Dave was one of the first Aussies to fly them way back when they first entered service for the RAAF in June 1973. It must have been the last operational plane he flew as a RAAF pilot before becoming a desk jockey. The F111 is still in service with the RAAF to the present day but Dave and Bob are not. How does Dave get his adrenaline fix these days? Well he too does not fly Red Bull aerobatic planes, but all is not lost. (See text box below)
| | |
| --- | --- |
| | |
Dave says his days of high speed thrills have long gone and he's taken up more mundane activities to keep himself amused. He tinkers with his Triumph TR4 and TR6, which he restored himself. Well, it easy to imagine Dave speeding along a coastal road with the top down getting a buzz from driving his Triumphs. The Top Gun pix at the top of the page was a standard squadron photo. It shows Dave sporting a parachute and to my knowledge he never had to use one. However Daves ultimate adrenaline fix must have come when F-111C A8-141/6 Sqn crashed into the Hauracki Gulf near Auckland New Zealand, after catching fire on 25th October 1978. Pilot Dave Rogers and Navigator Peter Growder ejected OK. I wonder if the shots below, remind Dave, of how his plane looked to him after parting company with it in his ejector seat and floating down in his parachute?